Online Norwegian Classes
(Last updated January-February 2014)
The classes are online with the use of Skype. In addition some of the homework will be sent via e-mail.
In all classes there will be strong focus on speaking and listening tasks related to the language elements in focus.
Training in written Norwegian will be both as homework and in relation to the listening tasks.
With these private sessions you will therefore receive immediate feedback and correction, making it an extremely efficient way of learning!
Price is US$ 20/hour (55 minutes) - No Monthly Fees - Contact via email@norwegianlearning.com
Quick terms for the classes:
- Classes can be cancelled by the student up to 12 hours before the class.
- You may pay after each the class, but you can only be 1 class behind on your payment at any time.
- Payments can be made by using one of these methods: Bank Deposit in Brazil, Bank deposit in Norway, or PayPal.
- I can issue a receipt if you wish
Learning tips:
- Try to study a little every day even if it is just for 20 minutes.
- Try to listen to Norwegian audio - Particularly audio you mostly understand.
- Do the homework tasks and try to write ateast 50 words.
For more general terms and information about the
Course in Norwegian
.
About me:
Norwegian Teacher
Classes in Basic Norwegian
For the classes in Basic Norwegian (level A1 and A2 in the European standard) I primarily use the same material as what is being used in language classes for immigrants to Norway. There is flexibility in the material used. However, it is highly recommended that basic structures of Norwegian are learned using more standard learning material.

In the beginning a standard material will provide very little communication and more learning standard structures.
For example expressing your name, where you are from, what you do etc.
Normally after 5-7 full lessons we will be able to have more free communication in Norwegian.

The format for the classes is not set in stone. Other books, including phrasebooks, can be used.
Phrasebooks are, however, not ideals for properly learning the language.
If you do not want to invest in material - we can work with material I send to you!

After only 3-5 lessons you will be able to provide written tasks which will be corrected free of charge.

If you are new to Norwegian it is Highly recommended that you use a professional teacher.
Firstly, this will avoid the development of bad habits. Without correction from the start you can fossilize some habits that will be difficult to change later.
Secondly, pronunciation is one of those elements you should train and get corrected from the start.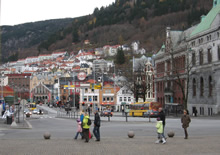 City center of Bergen in Norway


Intermediate Norwegian
For the Intermediate level of Norwegian I usually use two different books. "Stein på stein" contains 14 chapters and is used for Basic Intermediate (B1).
"Stein på stein" is also only in Norwegian and after completion will put your skill level firmly in Intermediate level.
Second book being used for Intermediate is "Her på Berget" (B2).
This book also contains 14 chapters and put you at a level where you are prepared to take
Bergenstesten
.
If you complete through this level you will be able to fluently speak with Norwegians!
This includes not only topics you are familiar with but you should be able to study advanced topics.
To train for the test - Bergenstesten - and to be able to increase your fluency, this course uses a lot of discussions both written and orally,
with topics that are relevant both for Bergenstesten and in your daily life.
If your aim is to learn Norwegian for personal and professional use without learning it for a particular test, we can naturally use different learning material. If you wish to discuss news of the day - this can be great training for someone not living in Norway.
Contact Information:

If you have any questions or interest in starting you lessons
- Send me a message to email@norwegianlearning.com
Or use the form below:
General terms and information about the
Course in Norwegian
.
Telephone: (+55 51) 8289 3109
Address: Boa Vista, Porto Alegre, Brazil
*Classes are 55 minutes