About Norway
Norway is a very small country which only recently have increased its population to 5 million people.
With close to 400,000 square kilometres Norway is the second least populated country in Europe.
The capital is Oslo, located in the east, with aproximately 1 million people in the city and 1,4 million in the larger metropolitan area.
Bergen is the second largest city with 270,000 people in the city and almost 400,000 in the larger metropolitan area.

The recorded history is more than a thousand years but the independence was only achieved in 1814.
I will go through some of these elements in the texts mentioned below.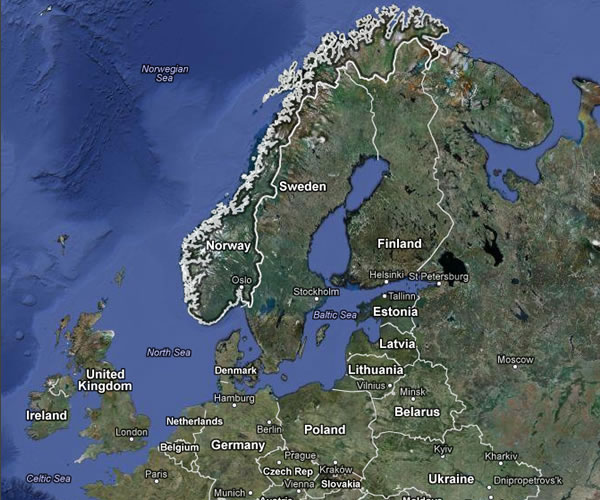 (Map of Norway taken from Google Earth)

Places and information about Norway
Oslo - Norway's largest city and the capital. Located in the eastern part of Norway close to Sweden.
Bergen - Norway's second largest city, close to the Fjords and with traces of history.
Fjords in Norway - The Fjords in the western part of Norway is famous and a must vsi
Tromso in Norway - The city of the midnight sun. This northern city is famous but not very accessible.
Trondheim in Norway - The country's third largest city.